Love You Forever
Written by Robert Munsch
Illustrated by Sheila Mcgraw
Reviewed by Cheryl V. (age 9)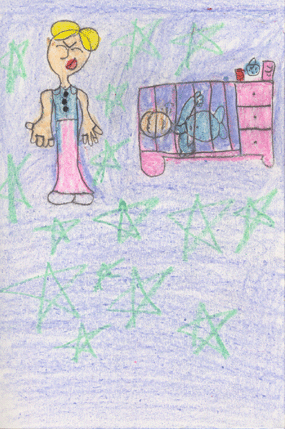 My book is about a young child who grows up to be an adult. When he was little his mother always sang a song to him before he went to sleep. I like the beginning when he was a baby because he was fooling around and throwing toothpaste all over the bathroom and he made a terrible mess. Sometimes his mother would say "this baby drives me crazy!" When he was almost a teenager he had the strangest friends and he wore the weirdest clothes. He also listened to the ugliest music.
Sometimes when I think about the book it makes me cry, because it makes me want to grow up. My favorite part was when he was a teenager because he looks CUTE there. I like all the characters in the book. This book reminds me of when I was little and my mom used to carry me and rock me to sleep.
I recommend the book to other people to remember about when they were little babies. Adults would like the book because they will remember how they drove their own mommies crazy.