Shiloh
Written by Phyllis Reynolds Naylor
Reviewed by Autumn R. (age 13)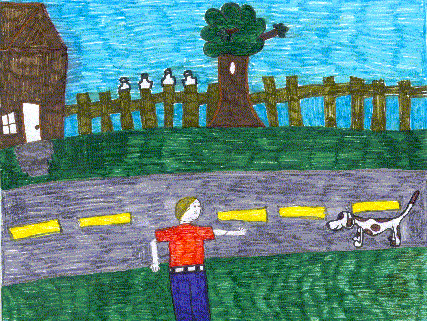 This book is about a dog who ran away from his owner and a boy named Marty found him in his yard. Marty was sure the dog, Shiloh, was getting abused by his owner. The story tells all about how Marty tries to rescue Shiloh from his previous owner.
I think the lesson of the book is if you find a dog you should make sure that it is taken care of before you give it back to the original owner. I think the author is probably a dog lover. I like the book but I think it is kind of sad. But I like it because it about a dog. The main character, Marty, reminds me of my sister Amanda because if she found a dog she thinks it?s the cutest thing she?s ever seen. When I read the book I book I felt sorry for the dog because they need a place to live just like we do. The story also reminds me of a dog who used to always come on my street.
I recommend this book if you like dogs because it is about a dog named Shiloh. I think a reader who gets into books should get this book because you can really get into charachter as you read this one. Readers of all ages should enjoy reading this book!