Sixth Grade Secrets
Written by Louis Sachar
Reviewed by Kathryn C. (age 11)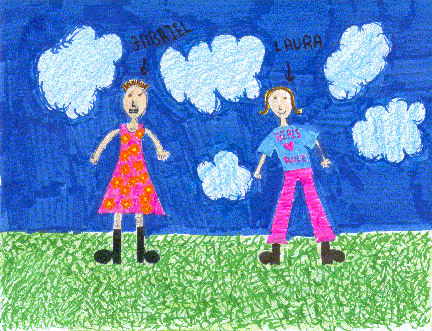 Laura makes a club and calls it Pig City. To make sure none of their friends tell about the club, Laura makes her friends give her something very embarrassing. Gabriel wants to join, but when Laura asks him to do something embarrassing, something goes terribly wrong. Now there are two secret clubs in Mr. Doyle's class. You can read it and find out the rest.
When I read this story, I learned not to let friends interfere with your personal life. I think the author was trying to tell you to do what you want to do, not what other people want you to do. I think that this book is also wild, weird, and funny. When Laura is getting insurance from Gabrial, he has to get a picture taken in a dress- then things go really CRAZY! I like Sixth Grade Secrets because it is about people who are my age who do the same things I do. My favorite part was when Laura took a picture of Gabriel in a dress because I have never seen a boy in a dress. Laura reminded me of myself because she is always trying to correct everything. Laura changed from bossy and rude to nice and calm. This story reminds me of when I started a secret club.
I recommend this book for all boys and girls because it is wild and weird and funny. The best age for this book would be sixth grade, because I think they can relate the best. However, any grade would enjoy the book.