Ella Enchanted
Written by Gail Carson Levine
Reviewed by Sarah N. (age 12)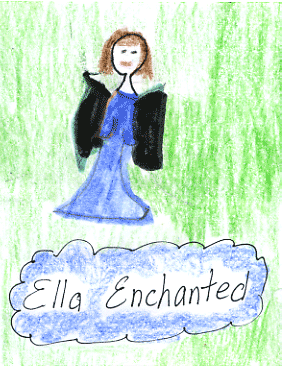 Amazing! How can that be? A world full of gnomes, ogres, and elves with fairies and witches flying above! In this book you will learn about a girl named Ella who, at birth, had a very unusual curse or spell cast upon her. She was forced to be obedient! She goes on amazing adventures to try and find the fairy who cast the curse on her. Ella meets many people who she either makes friends with or has to run away from.
I enjoyed the many details to make this book seem so real. In describing the ogres it seemed real that they would be working in the fields picking food quickly like normal farmers. I liked how the author used different languages because there are a lot of different languages in the real world. This story is similar to Cinderella because there are two evil stepsisters and the handsome prince who Ella liked. This story seemed like a more modern version of the fairy tale, Cinderella. I really enjoyed the movie which was made from this book because there are many fun things shown like dancing and singing. I enjoy dancing myself. There is also a bonus song at the end of the movie.
I recommend that you read this book because if you like more modern fairy tales and exciting adventures, this book will be perfect for you.