No Girls Allowed
Written by Stan & Jan Berenstain
Illustrated by Stan and Jan Berenstain
Reviewed by Eddie S. (age 8)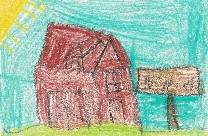 Sister Bear got into Brother Bears things. Brother Bear built a clubhouse and hung a sign that says, ?No Girls Allowed?. Sister Bear built a clubhouse for everyone and all have fun.
My favorite part of the story is when the boys built the clubhouse. My least favorite character is Sister Bear. She was annoying. It relates to my life because I have a sister who is mean and annoying like the sister in the book. This book has a lot of pictures that helps tell the story.
This book is funny so others should read it.