The Banana Split from Outerspace
Written by Catherine Sirarusa
Illustrated by Catherine Sirarusa
Reviewed by Isaac J. (age 8)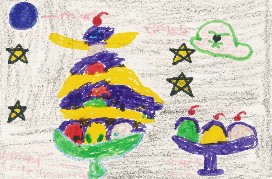 First, everyone visits Stanley?s ice cream shop. No more customers stopped at Stanley?s shop because a new highway as built. Zelmo spaceship crashed into Stanley?s new sign. Zelmo tried to leave, but his ship was still stuck into the sign. Then the shop was moved by the ship to the new highway. Then everyone gathered to try Zelmo?s new banana split from outer space. Zelmo went to Mars Ice Cream Fair.
My favorite part of the story is when the spaceship crashes into Stanley?s sign because that is how they meet each other. My favorite character is Zelmo because he makes the best banana split. This story relates to my life because I enjoy eating ice cream too. This story has pictures. The pictures only help a little to tell the story because they are not colorful.
I think that others should read this book because it shows you lots of ice cream.