You Are Special
Written by Max Lucado
Illustrated by Sergio Martinez
Reviewed by Victor D. (age 8)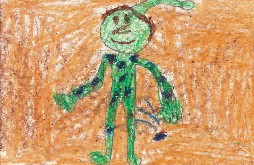 Punchinello felt very sad because he only got dots every day. Dot stickers are bad and stars are good. Lucia was the only doll that didn?t have stickers because they wouldn?t stick to her. Punchinello wanted to be like her so he went to see his maker, Eli. Eli tells him he is special. If he believes in himself, the stickers won?t stick to him. They soon start to fall off.
My favorite part of the story is when a dot falls off of Punchinello. Dots mean something bad. They won?t stick if he believes in Eli, his maker. Eli is my favorite character because he helps Punchinello. The wooden toys gave each other stars for being good at something or for doing something good. I get stars for good homework and trophies for being good at sports. This story has pictures that helps tell the story.
I think others should read this story because it has a good message: Don?t let others judge you, and to believe in yourself.