Junie B. Jones has a Peep in her Pocket
Written by Barbara Park
Illustrated by Denise Brunks
Reviewed by Zachary B. (age 8)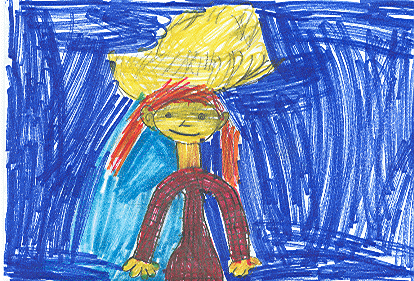 Junie B. Jones and her class are on a field trip to the farm. Big fat meanie Jim tells Junie B. that there is a rooster that will peck her head. Then Junie B. gets scared of the rooster, and she doesn't want to go to the farm. Her mother says she has to go, and she also says she would get a camera for Junie B. to take on the field trip. So Junie B. goes and ses all the animals. When it is time to see the rooster, the rooster doesn't peck her head.
My favorite part is when Junie B. Jones hides under the school bus seat. I like that part because it is funny. Grace says, "Why are you down there?" Junie B. says she is afraid of the rooster. I like the illustrations because they look funny and because they tell a lot about the book. This book is part of a series about Junie B. Jones. It is like the other books because Junie B. Jones always gets stuff mixed up and Grace always gets stuff right. It's different from the other books because the story happens at school and they go on a field trip.
If you're a really good reader, you might want to read this in first grade. Second graders would like it for sure. They would like it because it's funny, and lots of people like funny books.