Bailey School Kids: Dracula Doesn't Drink Lemonade
Written by Debbie and Marcia Thorton Jones Dadey
Illustrated by John Steven Gurney
Reviewed by Richard E. (age 7)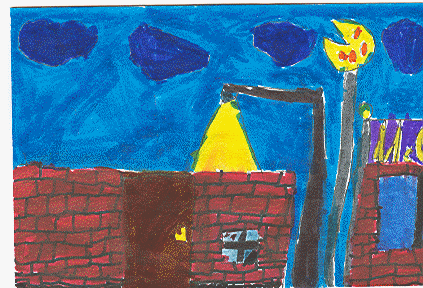 This book is about some kids from Bailey Street Elementary. They try to see if the new guidance counselor is Count Dracula. They think the counselor, Mr. Drake, might be Count Dracula because of his initials (D.C.) and because he likes only moonlight and the darkness. Lots of scary things happen as the kids try to find out about Mr. Drake.
This is a fun book to read because I like stories about Dracula. It's weird to think about somebody at school being Dracula. My favorite part of the story is when the Bailey Street Kids hear about somebody carrying a coffin into a house, then later they see Mr. Drake go into the house. The illustrations in the book are good. They are black-and-white pictures, and I like that kind because they're old-fashioned pictures and that makes them special.
I think first graders and up should read this book because it is pretty scary. Kindergartners might have nightmares, or the vampires might scare them. These things shouldn't bother older kids.