Gooseberry Park
Written by Cynthia Rylant
Illustrated by Arthur Howard
Reviewed by Everett T. (age 10)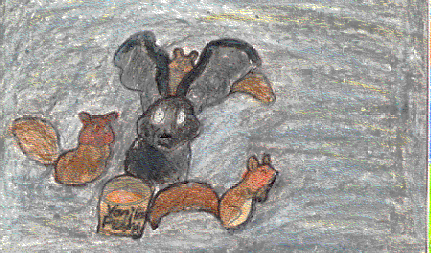 Have you ever searched for a friend in an ice storm? Kona, a kind chocolate lab, and Stumpy, a squirrel, are friends who talk to each other every day until a dangerous ice storm hits Gooseberry Park. Kona is unable to get out of the house to check on Stumpy who is in a tree with her three babies. Stumpy?s quilt is getting heavy with ice. Will Kona make it out of the house in time to save his friends? Will Kona be safe in his search for Stumpy and her babies?
I liked Goose Berry Park because the pictures are exactly how I imagine the characters to be. It plays a movie in my mind because of the way the author writes. My favorite part is when Stumpy meets Murray, a bat who loves eggrolls and looks for them in one trash can almost every night. My most favorite character is Murray because he?s always the one getting into trouble and is very funny! What I think is special about Murray is that he is very helpful throughout the story.
I recommend this book to a reader who likes exciting, funny, and calm stories. If this describes you, you are made for this book. But if it is not that interesting to you, you can find another book to read.