Dinosaurs Before Dark
Written by Mary Pope Osborne
Illustrated by Sal Murdocca
Reviewed by Mika G. (age 8)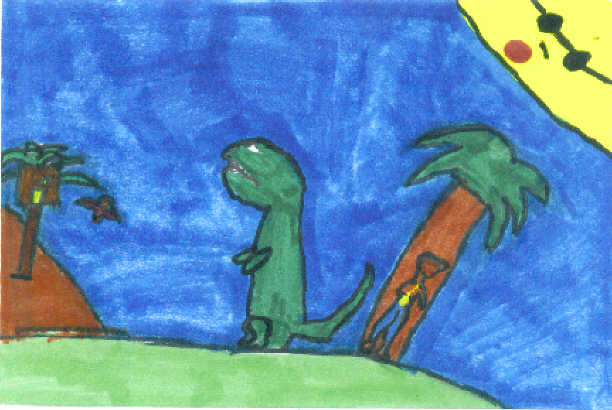 This story is about a boy named Jack and his little sister Annie. Annie found a tree house in the woods in Frog Creek, Pennsylvania. They climbed the rope ladder to the top. The tree house was filled with books. Annie handed Jack a book about dinosaurs. Jack opened the book to a page that had a blue silk bookmark. Jack looked at the picture of a pteranodon. Jack wished he could see a live pteranodon. Before they could do anything, the mysterious tree house took them back to the prehistoric past. Now they have to figure out how to get home. Where did the tree house come from? Will they get home before dark or will they become the dinosaur's dinner?
This book is part of a series called "Magic Tree House". All the books in this series begin with Jack and Annie going up to a tree house to read books. The books they read take them on different adventures. Each book is set in a different place.
The character Annie reminds me of my sister Casey because they both try to make friends with animals. They both also like to run around and pretend.
The illustrations in this book are black and white with different shades of gray. I think the illustrations are made of ink. Some of the illustrations take up a whole page and others take up part of a second page.
I would recommend this book because it takes you on a lot of different adventures. Second graders who read well through fourth graders could read this book on their own. Anyone who likes adventure stories would probably like this series, too.