Pee Wee Scouts Camp Ghost Away
Written by Judy Delton
Reviewed by E.G. (age 9)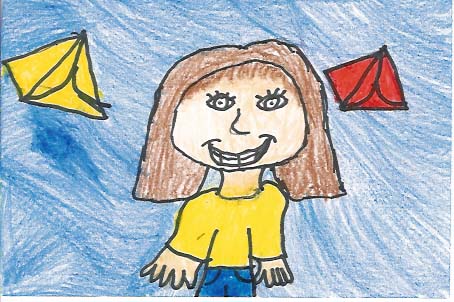 Judy Delton did a great job of writing Pee Wee Scouts Camp-Ghost-Away. The scout troop sold donuts to raise money for a camping trip. The only problem was that all of the kids were scared to go camping. They were all homesick and scared, except for Molly Duff. Sonny and Roger were trying to scare the girls by putting a sheet on themselves to look like ghosts. All of the kids got badges, except for Molly. Will Molly ever do anything good? Will the children stop being scared?
This is a really good book. It has a lot of problems. The children had a problem because they were homesick and crying. Additionally, it was funny. It was funny when Roger pushed Rachel into the ocean with her new outfit on. I enjoyed reading this story.
Molly was an interesting character. She was brave because she wasn't afraid to go outside where there was a ghost. Also, Molly was smart because she knew everything. She was very helpful, too. Molly was helpful because she helped Mary and other people find whatever they couldn't find. Finally, Molly was an interesting character because she's brave, smart, and helpful.
When I read this book I felt very good about it. It had a lot of information. It told me never to be scared to go camping. Also, it was very funny. When everyone was worried about the ghost, I laughed. Third, it was scary. It was scary to me because I thought there was a real ghost. I felt good about the story because it had a lot of information, it was funny, and it was a little scary. This story really excited me! I think kids who like to go camping should read this book because it was all about kids going camping. This is a great book, and I know you will think it is great too!