Bedhead
Written by Margie Palatini
Illustrated by Jack E. Davis
Reviewed by Steven B. (age 10)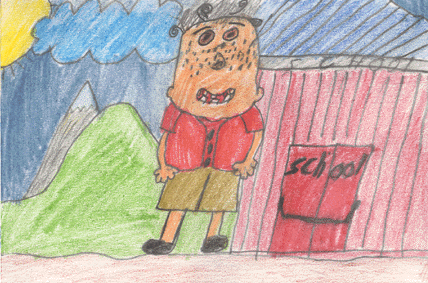 Bedhead is a very funny book about a boy that has a very bad hair day and doesn't know it is picture day. His family tries to help him get rid of the bad hair. They try almost everything they can think of, but nothing works. One of the things they try is to spray it and hold it down with pins, but it does not work. It is time to go to school and the boy has not fixed his hair, so he puts on a hat but when he gets to school the teacher says "picture day, no hats." Oliver does not know what to do. He does not take off the hat, but when he is about to take the picture they make him take off the hat and once he does . . . well, you'll just have to read the story to find out!
I loved the story because I thought it was very funny and is realistic because sometimes people have bad hair days. I thought the characters were very realistic because the people in Oliver's class were large, skinny, dark skinned, and light skinned. The writing was also good because it gave a lot of details especially about the hair. I liked the illustrations because they were very funny. It reminds me of me when I wake up in the morning and my mom says "Comb your hair!" even though I hardly have any.
I think this story is good for all ages, because it is not hard to read and it is very funny. If you like crazy, comedy, fiction books this is the one for you. It is not too short and not too long. I thought it was so good I did not want to stop reading.