Peeping Beauty
Written by Mary Jane Auch
Reviewed by Samantha L. (age 7)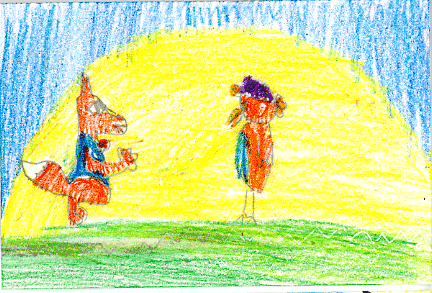 This story is about a chicken named Poulette. She always dreamed of being famous. Then a fox came by and said, "I was watching you from my hill. Come and perform on my stage." But the fox was faking it. Her friends said, "He might try to eat you!" But Poulette didn't listen to them. Poulette listened to the fox, not her friends. So Poulette went to perform. If you want to see what the fox did and see if Poulette's friends were right, check this book out!
My favorite part is when Poulette's friends were about to cook the fox who was about to eat Poulette. I like this part becasue it was so funny when the fox cried and sobbed and ran away to his mommy. My favorite character is the fox because he is so funny that he makes me laugh my head off. The fox reminds me of myself because I am stubborn and selfish, and the fox is the same way as me!
I would recommend this book to everyone because I think that they would like this book because of the fox who sobbed and sobbed when he was about to be eaten. That was the funniest part.