Perdido en el mar - Lost in the Ocean
Written by Gail Donovan
Reviewed by Sedonah N. (age 8)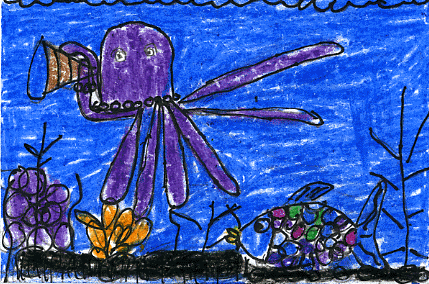 This book is about a class of fish that go on a field trip around the ocean. The teacher put all the students with a partner and they had to take care of each other while on the fieldtrip. The reason why they were going on the fieldtrip was to learn more about their communities. Everyone was having so much fun. Suddenly, one of the fish saw a crystal rock and decided to get it. Well, before he knew it, he was lost. His classmates were no where to be seen. He started crying. Read this book and you will find out what happened to this poor fish.
My opinion is that this is an excellent book. It has incredible, colorful pictures. My favorite character is the rainbow fish because he is always so caring and thoughtful. I like reading the author's books because her books are fun to read.
I recommend this book because you will enjoy looking at the pictures and the book has stickers at the end that you can keep. Students in grades K through 3 will have fun reading this book.