Summer of the Sea Serpent
Written by Mary Pope Osborne
Illustrated by Mary Pope Osborne
Reviewed by Irvin P. (age 8)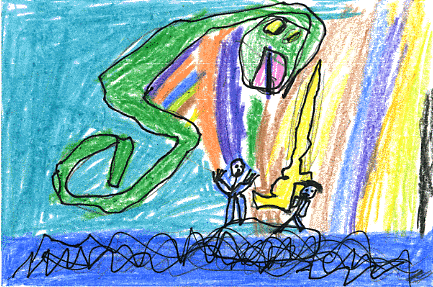 Do you know about the Magic Tree House? In this mission Jack and Annie have to find a thing for Merlin. Merlin wrote a poem to help Jack and Annie get started. In this mission there is a horrible monster. The monster is green and spooky. Read the book and find out more about the monster.
My opinion is that this book is the best. I have read the other Magic Tree House books and this is one of my favorites. You never know what is going to happen next. I like reading Mary Pope Osborne's books because she makes them fun to read and you can't wait to see what Jack and Annie will do next. My favorite character is Annie, because she is brave. She makes me laugh too because she acts silly sometimes. I also liked the book because I felt I was part of the adventure.
I recommend this book to kids, parents and teachers. If you don't have a book to read this summer, I recommned that you read this one.