Because of Winn Dixie
Written by Kate DiCamillo
Reviewed by Dri H. (age 11)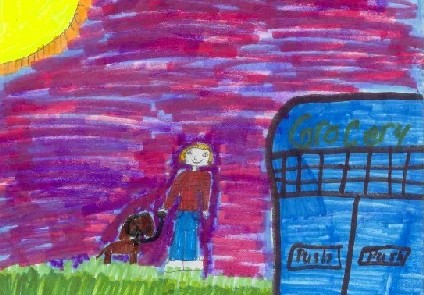 In this story, Because of Winn-Dixie, a 10 year old girl goes into the Winn-Dixie store and comes out with an abandoned and suffering dog. They become very good friends during the summer. Winn-Dixie helps her learn some valuable lessons about friendships. You must read the book to find out some of these lessons.
I think this book is a great book because it has a very surprising ending. The author tries to communicate to the reader about the feelings of Opal and her dog Winn-Dixie. The part that made me laugh is when Winn-Dixie knocked over the manager of the store. It was hilarous. This book reminds me of when there was an abandoned cat and my family took in the cat. There was one character who really changed in the story. It was the preacher, Opal's father. At first he wanted to put the dog back on the streets, but then he changed and became nice to the poor dog.
I think everyone will enjoy reading this book. I also think that a grown-up could read this book to little kids and they could really enjoy it too. There are many interesting parts in this story. This is a realistic fiction story that everyone who reads it can relate to in some way or another. It was a wonderful story with lots of adventure and excitement.