Open Wide
Written by Laurie Keller
Illustrated by Laurie Keller
Reviewed by Chris G. (age 10)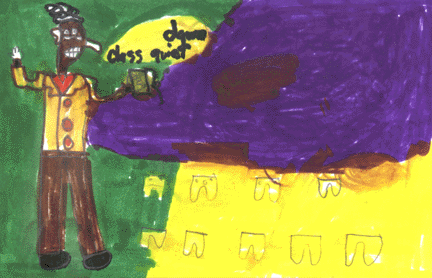 This book is about a teacher named Dr. Flossman. He teaches his students, the teeth, how to protect themselves from cavities, gingivitis, plaque, and tooth decay. He teaches them how to brush their teeth everyday so nothing will happen to them. He reviews the parts of a tooth, and he also teaches that babies need their teeth, primary teeth, and where they go after children lose them. He also teaches them what each group of teeth are supposed to do. After lunch, Dr. Flossman tells them to brush and floss but they say no. One of them says, "In this crazy world, who has time to brush?" Read this story to find out what happens to your teeth when you don't want to brush them. You should read OPEN WIDE because it tells you how to protect your teeth.
My favorite part is when the teeth had a food fight in the lunchroom. I liked this part because they were throwing food all over. It got very messy. I liked the wisdom teeth because they were very smart. This book is unique to me because it tells you how to protect your teeth.
I recommend this book to people who like to protect their teeth. This book tells you how to protect your teeth by brushing and flossing every day. Also, people who don't like taking care of their teeth should read this book. It shows you how your teeth get if you don't take care of them properly.