Gerald Mc Boing Boing
Written by Dr. Seuss
Illustrated by Mel Crawford
Reviewed by Shireen Z. (age 10)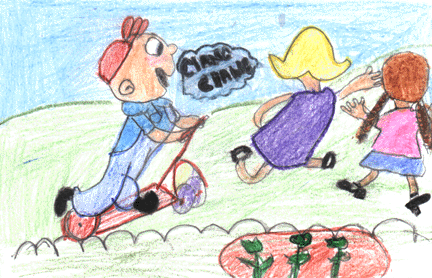 Imagine that your first words were Boing Boing! Wouldn't that be funny? This story is about just that. On his second birthday, Gerald Mc Cloy's first words were BOING! BOING! His mother and father turned green because they were surprised that at the age of 2 that was his first words. His parents believed that most kids should talk at that age. Then, Gerald's noises were even louder, they went BOOM! BOOM! So, his father called the doctor and told the doctor that Gerald was making strange noises. The doctor came and examined Gerald. He said that he didn't have a cure for what Gerald had. Then Gerald's parents decide to send him to school and there, people started to make fun of Gerald. They called him Gerald McBoing Boing. This made Gerald feel angry so he ran away from home. While boarding the train he meets this man who wanted to make him famous because he (Gerald) knew how to make squeaky noises. Gerald then becomes famous. Find out what happened after Gerald became famous and what his parents did.
In this story my favorite characters are Gerald and the man who made Gerald famous. Gerald was five when he became famous. I liked these characters because they had a happy time together. If you like Dr Seuss books you will like this book. Even though it's sad in some parts it is a cute story. I like Dr Seuss books because they rhyme and the pictures are sometimes green. They are also funny. The books that I have by Dr. Seuss are Green Eggs and Ham, The Cat In The Hat, The Cat In the Hat Returns. I enjoy reading Dr Seuss books. Do you?
I recommend this book because it teaches a lesson. The lesson that it teaches is to not make fun of other people just because of the way they may look or sound. This doesn't mean you have to make fun of them because what if you got teased that same way? No one likes to be teased. I also recommend this book to people who like Dr. Seuss books.