The Worrisome Wombat
Written by Bronwen Scarffe
Illustrated by Leanne Flemming
Reviewed by Hannah S. (age 9)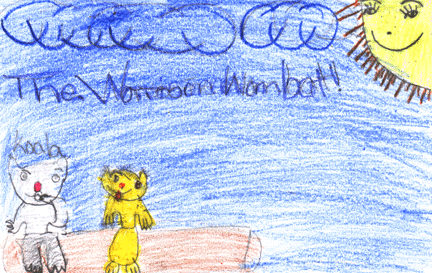 This book is about an animal. His name is Wombat. He worried about his friends. His friends are Dingo, Emu, Goanna, Joey, Koala, and Kangaroo. Wombat said to Dingo, "Do you need to run so fast?" Wombat says, "Do you need to climb so high? You might get hurt" to Koala. Dingo and Koala ignore him because he asks so many questions. They ran away from him. That makes Wombat feel very sad. They were thinking about what they did and saw that it was wrong and they were looking for Wombat. Read this book to find out what happens to Wombat and his friends.
What I like from the story was when Wombat starts asking good questions instead of worrisome questions to Koala and Dingo. The characters that I liked were Koala and Dingo. I like Koala because he looks like a teddy bear. I like Dingo because he looks like a dog and I like puppies because they are sweet.
I think that you should read this book because it is a great story. It teaches you that sometimes you shouldn't worry so much over something.