The Worrisome Wombat
Written by Bronwen Scarffe
Illustrated by Leanne Flemming
Reviewed by Adriel M. (age 7)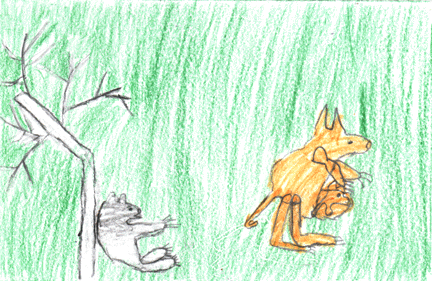 This story is about a wombat who worries about his friends. Some of his friends names are Koala, Kangaroo, Dingo, and Goanna. He worries about Koala because he goes too high on the top of a tree. Wombat worries he could have a terrible accident. Wombat worries about Goanna, a lizard, a cold-blooded animal, because she lies in the sun for a long time, so Wombat thinks she is going to get sunburned. His friends, the animals, start to ignore Wombat because he worries about them too much and they become mad because they know they can take care of themselves. Wombat feels sad and he goes back to his burrow. Then his friends want to talk to him.
My favorite part was when Wombat was happy with all of his friends because the Wombat was happy and he talked to them again. He talked to Joey and Kangaroo and told them "Enjoy the ride, Joey!" What I think about this book is that it is special to me. I like this book because of how the illustrator drew the pictures. The author writes how Wombat and his friends feel and the pictures show the acting of the animals. This book reminds me of when I had a friend and then I got another friend. But I thought the new friend was good but he was bossy. Then I left him and went back to my old friend.
I think you should read this book because you might find a friend and have a friendship and this book is about friendship. I recommend this book to people who are interested in animals and friendships.