Strega Nona
Written by Tomie dePaola
Illustrated by Tomie dePaola
Reviewed by Carmen C. (age 7)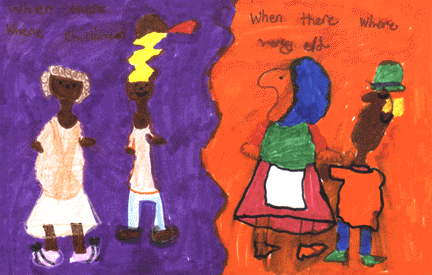 This book is about an old lady named Strega Nona, which means grandma Witch, and Big Anthony who didn't pay attention to Strega Nona. When Strega Nona told Anthony not to touch the magic Pasta pot, inside he was thinking his chance had come. So he told everyone about the magic pasta pot but everyone laughed. They thought Big Anthony was silly. So Big Anthony said to get forks and plates. Everyone laughed but got forks and plates while Anthony was singing the magic song. Then everyone came to eat pasta. Read this book to find out what happens to Big Anthony.
I liked this book because Big Anthony was doing a lot of funny things. He took the magic pasta pot and was telling the whole town about it. He stood on top of a box and tried to act as though he was a king because he had the pasta pot. This book is just like the story, "The old lady who made the pasta for her sister." The old lady gives pasta to her sister, who spills it on her head! Then she takes a bath, and eats the bar of soap, since she thinks it's candy. It reminds me of "Strega Nona" because of the pasta. This story reminds me of when my mother gave me a piece of cake and my brother wanted it. I told him, just like Strega Nona told Big Anthony, that he needed to do something for me before I could give him the cake. He had to tell my father to take us somewhere and he did. Then I told him he had to get me a piece of pie, and he did.
I recommend this book to people who don't pay attention to their parents and other people. Big Anthony didn't listen to Strega Nona and he had to learn a lesson, to milk the cow and feed the sheep when he is asked to, and if he doesn't he needs to sleep next to the sheep in the barn! If you want to find more books go to a library or a store to find this book and more books of Tomie dePaola.