Goosebumps-The Werewolf of Fever Swamp
Written by R. L.. Stine
Reviewed by LG (age 10)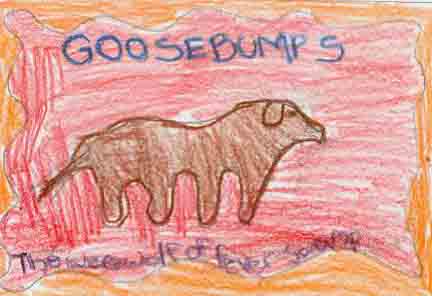 This story is about two children named Grady and Emily who are happily living their lives until they had to move because their pet deer didn't have enough room in their yard. They moved to Florida and the deer had its own deer pen. Their new house was near a swamp. When they went to investigate the swamp they discovered a house. Upon entering the house they saw a man with yellow teeth and dirty clothes. Grady and Emily ran away when he started chasing them. Grady and Emily even get chased by a werewolf in another part of the story.
I enjoyed reading this story because it was scary. My favorite scary part was when the man started to chase Grady and Emily out of the swamp. I was scared throughout the story because I felt like the two children were being followed everywhere they went. This is the first really scary book that I read and I liked it. My imagination was very active as I read this story. I think girls might like this book if more of the characters were girls. If you have ever passed a deserted house you can identify with the main characters when they discovered the house in the swamp. This part will give you the creeps.
I recommend this book for children in third grade and higher. The book did not contain any pictures and it had twenty-nine chapters. It might be a difficult book for a young child to read. I also recommend this book for kids who like to be scared. Many of the discriptions and actions were enough to give me nightmares.