The Worrisome Wombat
Written by Bronwen Scarffe
Illustrated by Leanne Flemming
Reviewed by James S. (age 8)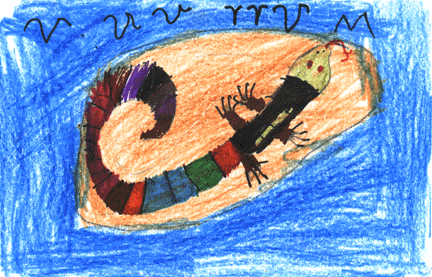 The story is about a worrisome wombat. He worries about his friends, the bush animals. He worries about Dingo, a wild dog, because he goes too far into the distant hills. Wombat says "Do you have to travel so far every day? You might get lost!" He worries about Koala falling off the tree. His friends feel upset when he asks them a lot of questions. So, they run away from him whenever they see him. His friends feel sad because they don't see Wombat anymore so they go to looking for him.
My favorite part is when Dingo becomes friends again with Wombat because it is always nice to have friends. I felt good when I read this book because it was a nice story about animals and friendship. The character I like the most is Dingo because I like dogs. Hopefully soon I'll have a dog of my own.
I recommend this book to people who like reading about friendship. If you've ever had a fight with one of your friends, this book is nice because you learn a lesson about friendship.