Pirates of the Caribbean
Written by Irene Trimble
Illustrated by Elliot Marks and John Bramley
Reviewed by Zachary K. (age 9)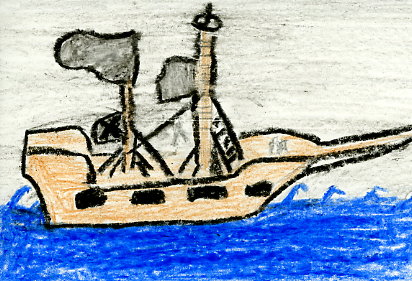 Have you ever been scared of pirates? In the story, Pirates of the Caribbean - The Curse of the Black Pearl, you will certainly be frightened. The curse that is upon the crew of the wicked ship, Black Pearl, makes the pirates sail forever without dying until the curse can be broken. A young girl by the name of Elizabeth Swam falls in love with a sailor whose name is Will Turner. The evil pirate, Barbossa, is a captain of Black Pearl and he captures Elizabeth. Along comes a feisty pirate by the name of Jack Sparrow who was stranded on an island by Barbossa and now is searching to take back his ship, the Black Pearl. Will and Jack team up to rescue Elizabeth and find themselves in a scary, exciting adventure. The evil pirates search to break their curse while destroying anyone who gets in their way. Did Jack get his ship back and the pirates break their curse? You will have to read to find out.
This book reminds me of the title, Real Life Treasure Hunt, because of the scary pirates that make it very adventurous. Also, the author's style was great, because it made me think about the mystery in the story, which kept my attention. Finally, the feature that I liked the most was the photographs, because it made you feel like you were really there.
I would recommend this book to people that like mysteries, because you need to think a lot in the story. Also, this book is recommended because the characters are frightening, which makes the book more stimulating to read. If you like books about movies then this book is right up your alley.