Froggy Eats Out
Written by Jack London
Illustrated by Frank Remkiewicz
Reviewed by Thomas A (age 7)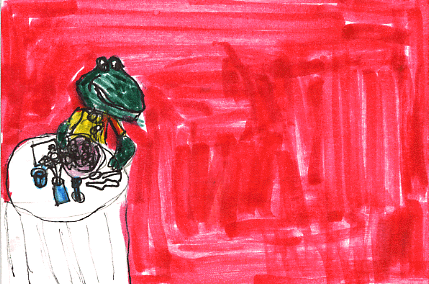 Froggy is hungry! He looks for food but does not find any because his family is going out to eat for his parent's anniversary. The Froggy family goes out to a fancy restaurant and Froggy says, "I AM HUNGRY!" Froggy spills his water when he opens his menu. Froggy eats salt! Froggy hits the waiter on the head with his spoon and picks the petals off the flower. Froggy did a lot of bad things in the fancy restaurant. You should read this book to find out the rest of them!
The lesson I learned from this story is not to be so cranky, even if it takes a long time to get your food.
I like the pictures of Froggy because I like the different colors. It reminded me of when I do bad things at a restaurant. My favorite part is when he hit the waiter on the head with the spoon because I never saw anybody do that.
I would recommend this book to any kids who ever had to go to a fancy restaurant. It is funny and you might want to do some of the things Froggy did...But you better not! Instead read this cool book!