The Ersatz Elevator
Written by Lemony Snicket
Illustrated by Brett Hilquist
Reviewed by Blair G. (age 10)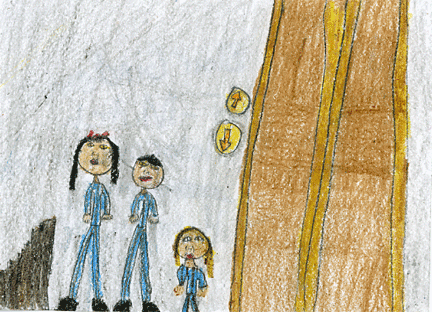 What's in? (Pinstripe suits) What's out? (Elevators) Those are the questions throughout this Lemony Snicket adventure. The Baudelaire orphans, Violet, Klaus, and Sunny are back and Count Olaf, their very first guardian, is attempting to track them down once again. There seems to be no limit as to what Olaf will do to get his grimy hands on the Baudelaire fortune. The orphans must convince Jerome and Esme Squalor, their current guardians, that Count Olaf is up to no good. Olaf disguises himself as an "in" auctioneer whose name is "Gunther" and Jerome and Esme were completely fooled. Will the Baudelaires ever be able to convince the Squalors that so called Gunther is actually Olaf? They seem to have their doubts. From what they can tell, both Jerome and Esme are completely tricked into thinking that Gunther is a good man. At least that is how it all appears to the Baudelaire orphans.
In my opinion this is one of the best books that Lemony Snicket has written because he really gets baby Sunny doing things and he makes it sound like the story was true and he saw it actually happen. Snicket does a great job of captivating his readers. This book is part of "A Series of Unfortunate Events". As in all the prior books within the series, Count Olaf is hard at work trying to get his filthy hands on the Baudelaire fortune. Will Olaf ever get stopped? Your curiosity will keep you reading to answer that very question. Mr. Snicket is such a great author that his readers will find themselves becoming the characters.
This book is one I would highly recommend. It will have your imagination running wild. It is one of those books that you just can't stop reading. I was reading on and on. It is for readers over the age of 10 who enjoy fictional stories that almost seem real. The story would interest almost all readers, even those who prefer non-fiction. Snicket does such a great job presenting this story that you start to believe it is really happening.