Gracie's Girl
Written by Ellen Wittlinger
Reviewed by Julie G. (age 11)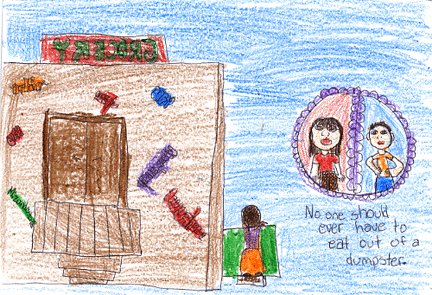 "No, Mom," complained Bess, "What if someone sees me get out of the car"? Bess' Mom wants her to go help at the homeless shelter, but Bess claims she will get scared by the disgusting ways of the people. Bess is starting a new school year with hopes of a new image. Soon Ethan, Bess' best friend, and Bess' Mom and Dad convince her and her brother to go with them to the shelter. There Bess meets an old lady (Gracie) and again sees her at a clothing sale. Gracie is a poor woman. Her husband died and she went into denial. In school Bess signs up for a play and meets some very interesting people, sees some places she never knew existed, and sees another side of a friend that she never realized. Bess talks to her Mom to find out where Gracie sleeps and she finds that the old woman sleeps outside! Why can't she sleep in the shelter?? Bess learns that the shelter is only for men. Bess decided that one of the places she just found would be perfect for Gracie! The Annex! Bess makes a deal with her brother to drive her there every Thursday to check on Gracie. Unfortunately, an unexpected tragedy happens at the end, but not until some wonderful things happen! As for Bess' new image, let's just say Bess realizes there are more important things to be concerned about.
I thought that Bess was really cool. She was trying to change her image and she came up with some good ideas. She also really seemed to care about what was going on around her. Bess reminded me of myself because she didn't want to go see people at a place she didn't like. When Bess was forced to go she found out that she actually liked it there. The homeless shelter reminded me of a place I didn't care for but now care about a lot because it is a low-cost place to live for the otherwise homeless.
I would recommend this book to people who don't mind a little bit of tragedy in what they read. This is a great book for people ages 9 - 10. I think that age can relate to it.