No, David
Written by David Shannon
Illustrated by David Shannon
Reviewed by Donale R. (age 10)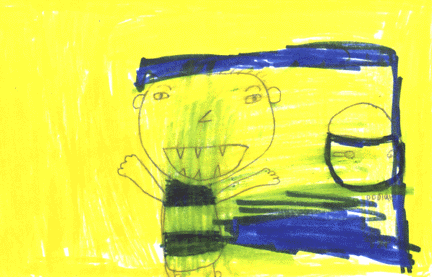 "No David No!" David's mom is always telling him "No" because he is always doing bad stuff. He spills a lot of water on the floor when he's taking a bath. He tries to get the cookies off the shelf when he's not supposed to. David also walks into the house dirty with mud all over him. He also runs outside naked! He also makes a lot of noise like he's in a parade. David does all these things that he's not supposed to do. This drives his mother mad and she is always screaming "No, David, no!"
My favorite character in the book is David because he is bad. He reminds me of myself because I'm bad and my parents and teachers always have to tell me no also. I like the part when he spills water on the bathroom floor because he is going to get into a lot of trouble.
I think that you should read this book because the things that David does are funny, like when he runs outside naked. Kids that are bad and don't listen to their mother should read this book because they might learn a lesson from it.