Gracie's Girl
Written by Ellen Wittlinger
Reviewed by Emily S. (age 10)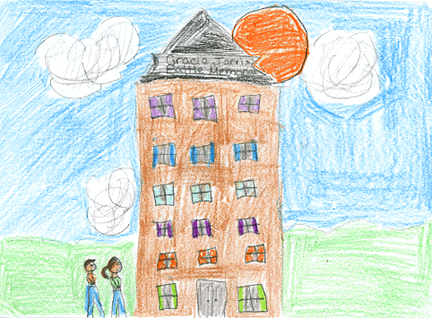 "Good girl!" Good boy!" That is the sound of Gracie giving many thanks to her new friends Bess and Ethan. Bess, one of the main characters in this story, thinks her life is unpleasant. She doesn't like her mom working at a homeless shelter and she doesn't like her new school either. Ethan, Bess' best friend, doesn't care what people think of him until Bess gives him a speech about how you need to fit in at school or you won't be popular. Gracie, an old homeless woman who they meet at the shelter, starts to become friends with Bess and Ethan. During this story they hide Gracie in the shed to keep her protected from the cold until the Women's Shelter opens. Unfortunately, something terrible happens and Bess blames it on herself. At the end of this novel Bess realizes that she should be thankful to have a home, a family, and food.
This book told about how people wanted to help the homeless find food, blankets, and a place to stay that would keep them warm for the winter. I thought that was interesting. I thought it was very sad when Gracie had her terrible ending. I did not expect this to happen. I learned that this book is a teaching story because you feel like the author is telling you to help other people in many different ways.
I recommend this book to anyone from age 8 to 90 years old. It does have some unusual language and some strange humor.