Beans Baker Bounces Back
Written by Erika Tamar
Reviewed by Carlie G (age 7)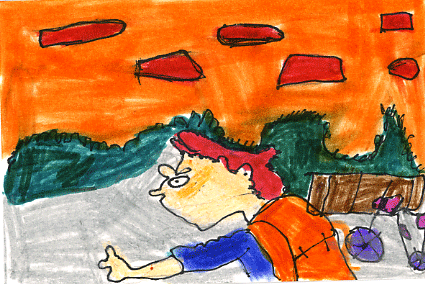 This book is about a boy named Beans Baker. Beans was the Robo-Pogo champion in his school. One day a boy named Sheldon asked to challenge him in Robo-Pogo. They had one week to practice for the contest. At the same time, Beans had done poorly in school and got an "F" on his spelling test. He had another test in one week that he needed to study for, as well as to practice for the contest. If he got a perfect score then his class would get to go to Monkey Bobs Pizza Adventureland. His mom and sister told him to study more, but he was worried he would not win the Robo-Pogo contest. His sister thought of a way for him to practice Robo-Pogo and study his spelling at the same time. She would say a word and he would reply with a letter and then a hop. He practiced like this for the whole week.
A lesson that I learned from this book is that it doesn't matter if you win or lose as long as you try your best. I liked Beans because he had very good sportsmanship. I also liked Kitt because she helped her brother to do better in school. My favorite part of the book was how Kitt taught her brother to study for his spelling test. I liked the illustrations in the book because they are very colorful and help to explain the story.
I would recommend this book to people who like to learn something from a book, because this book taught about working hard. I think anyone who likes funny books would like this book because it is very funny and cool.