Junie B. Jones is a Graduation Girl
Written by Barbara Park
Illustrated by Denise Brunkus
Reviewed by Annie C. (age 8), Annie C. (age 8) & Annie C. (age 8)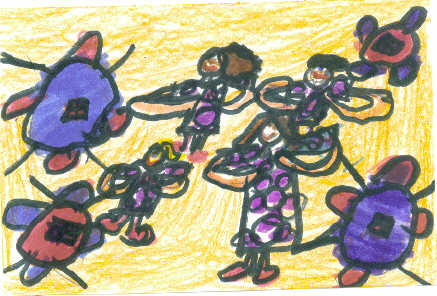 Have you ever read a Junie B. Jones book before? Well in this book Junie has a graduation gown and she is not allowed to open the box so it doesn't get dirty. Of course, Junie opens the box and she spills grape juice all over it. She puts it back in the box quickly, and is scared that her mom will see it and she will be in big trouble.
This book reminds me of my cousin when she got her fish out of the fish bowl and had a tea party with them. She made pretend stew with water and got it all over the place. And once I was stamping pictures with ink and I forgot to put the ink side up and the ink got on the floor and the carpet.
The illustrations made me feel like I was in the book. They are in black and white and are like cartoon drawings.
My favorite part was when grandpa says, "..she'll be easy to spot!" That really made me laugh.
I recommend this book for second and third graders. You would really like to read this book especially when Junie B. Jones comes out of the classroom and one of her classmates says that she looks pretty with all the spots.