Chewy Louie
Written by Howie Schneider
Reviewed by Andrew P (age 7)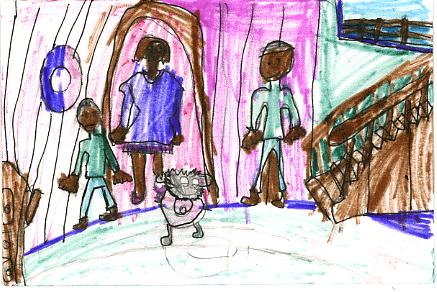 This book is about a dog that eats everything. In the beginning of this story a boy got a puppy that ate everything in sight, so he named the puppy Chewy Louie. The boy was afraid that his mom and dad were going to give Louie away because he was eating wood, toys, furniture, bowls, a guitar and lots of other things. One day the boy threw a stick and Louie brought it back to him and the boy realized that Louie didn't eat the stick.
I think that this story shows that you act differently when you get older. I would recommend this book because it is funny, especially when Louie ate the back porch. Another reason why I would recomend this book is because it is a very nice book about a boy who really loves his puppy, even though the puppy eats everything in sight! One last reason I would recomend this book is because it is very easy to read, so anyone could enjoy it.
The kind of reader who would like this book is a person who likes funny books and also likes dogs. I would recommend this book to anyone who is thinking about getting a new puppy. It could really help you get prepared!