Jennifer Jones Won't Leave Me Alone
Written by Frieda Wishinsky
Illustrated by Neal Layton
Reviewed by Emma S. (age 7)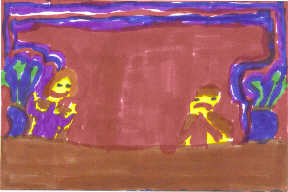 Jennifer Jones is a girl who likes a boy in her class. She annoys him by writing him poems and calling him "dear". The boy wishes that Jennifer Jones would move away, maybe to the moon. Then one day Jennifer really does move away. At first the boy is happy, but then he becomes sad. Why is he sad? What happens next? Read the book to find out.
This book is different from any other books that I have ever read because it is a story written as a poem. Sometimes the author writes some words really big and dark. The writer wants you to notice the words and also wants you to read them louder if you are reading the poem out loud. The pictures are made with markers and crayons. On some pages the illustrator uses real photograps next to the drawings. This book teaches the lesson that you have to be careful for what you wish because it could come true. Some things that you wish for could make you sad just like the boy in the poem.
I really liked the book because it made me laugh. It was funny when the boy yelled, "WHOOP-DEE DOO!!!" in one part of the story. It really made me laugh because I did not expect the boy to say that in that part of the story. It was also funny to me because the words took up almost the whole page. Besides that, the words just sounded funny when I heard them.
I recommend this book because it is funny and it is easy to read. I think that any first grader who reads well or any second grader could read this book. If you like poems or books that make you laugh, you will like this book.