Juan Bobo Goes to Work
Written by Marisa Montes
Illustrated by Joe Cepeda
Reviewed by Monica L. (age 10) & Tyler H. (age 8)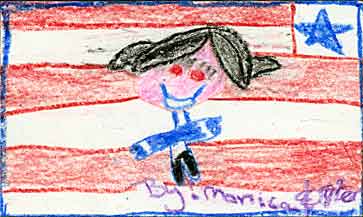 Juan Bobo is a peasant boy who gets everything confused and backwards. They called Juan Bobo ?Simple John? because he couldn?t really get things right. Juan Bobo?s mother told Juan Bobo not to put money in his pockets, but he did and the money fell out. Juan Bobo went to the farm and asked the farmer for a job. Senor Domingo told Juan Bobo to sweep the floor. When Juan Bobo got home his mother said, ?Ay, Juan! What will I do with you?? This book is telling you to always listen very carefully so you can?t get things wrong. The illustrations were nice. The animals look real. I like the illustrations with the ham because they make me hungry!
I think that the story was the best because Juan Bobo started to clean the floor. I like when Juan Bobo put the cheese on his head and then the cheese melted. I like the whole book because it has a lot of characters and it has a lot of nice words. It has Spanish words and English words. The pictures were nice. I liked that the pictures had beautiful animals and beautiful colors! It is like another Juan Bobo book that I have read, where he clucks like a chicken. The book made me feel happy. The story reminds me of when I was little and it was my birthday. My family and friends put my face in the cake.
You would want to read this book because it is very, very funny. And you can read this book all the time if you keep it safe. I would recommend this book to my friends and my brothers because it is a wonderful book and they would like it. We would recommend this book for first through sixth graders.