Norma Jean, Jumping Bean
Written by Joanna Cole
Illustrated by Lynn Munsinger
Reviewed by Samantha K. (age 8)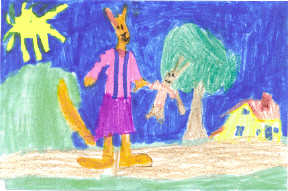 Norma Jean is a kangaroo who likes to jump all the time. One day when she plays with her friends after school she gets so excited while playing that she starts jumping alot. Her friends get mad at her because when she jumps they almost get hurt. When this happens her friends don't want to play with her anymore. This makes Norma Jean very sad and she decides not to jump anymore. Then her teacher announces that there will be a field day at school very soon. Everyone except Norma Jean signs up for a race. All of Norma Jean's friends shout that they want her to be in the jumping contest. But Norma Jean doesn't want to jump anymore. Do Norma Jean's friends change her mind about entering the jumping contest? Read this book to find out what happens next.
I liked this book alot because at the beginning of the story it is funny when Norma Jean jumps out of bed. That's a funny part because everything on her bed and nightstand fly up in the air. That's a really funny sight!
Norma Jean reminds me of myself because like Norma Jean, I jump out of bed almost every morning. My covers fly up in the air like hers do.
The illustrations are realistic even though the characters are all animals. But the animals act like people. They play jump rope. They play with stuffed animals and they even play catch! The illustrator uses mainly soft colors like pink, light yellow and other light colors.
I would recommend this book because it's about friendship. I think that first graders through third graders would like to read this book. Girls in these grades and some boys in these grades who like to read about friendship would probably like to read this book.