Ella Enchanted
Written by Gail Carson Levine
Reviewed by Ariella W. (age 9)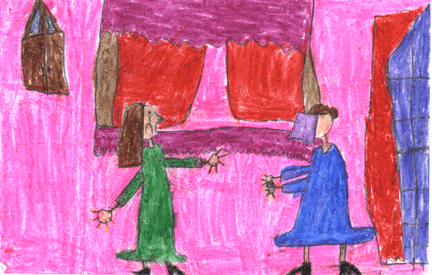 Once there was a girl named Ella. On her first birthday a fairy gave her the gift of obedience. She only became obedience on her fifth birthday because of the spell. She was free from the spell until her fifth birthday. When Ella was 11 her mom died. Ella needed to go live with her dad. Her dad sent her off to finishing school. Ella left finishing school to go find her dad because she knew he was traveling. On the way she met ogres and other horrible stuff she never expected. Ella hated being obedient. Finally Ella finds her dad and the fairy who gave her the gift of obedience. Will the fairy be able to brake the spell?
I liked "Ella Enchanted" because, I like fantasy and Ella Enchanted is a fantasy. My favorite part was when Ella met Prince Char and his parrot. It's really funny! Ella Enchanted is like Harry Potter. They're both fantasy.
I think you should read this book because it's exciting. I think someone who likes fantasy would enjoy this book.