Harry Potter and the Chamber of Secrets
Written by J.K. Rowling
Illustrated by Mary Grandpre
Reviewed by Samantha C. (age 9)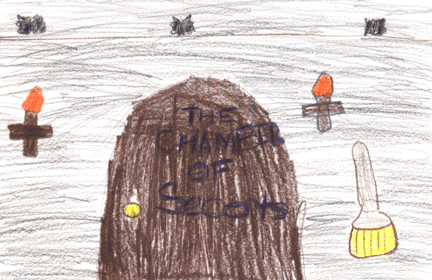 This story is about a boy named Harry Potter and his friends Ron Weasly and Hermeione Granger. They are looking for a special child that they think works for VOLDERMORT. Voldermort is a strong wizard that killed Harrys?parents. The kid is trying to kill Harry but instead of killing Harry he is shocking other kids in Harry?s school. In one part of the book Hermeione is looking for a book about the Chamber of Secerts. When she walks out she gets shocked and has to go to the hospital wing. Harry and Ron find out the boys name. To find out the boy?s name and who he really is you will have to read the book.
I think that this book is very magical because it?s full of problems that real people wouldn?t have to worry about .My favorite character is Harry because without Harry the story would not be called Harry Potter and it would have to change and I like the story the way it is. I wonder if Harry was a muggle ( a real person) would he act the same way to the Dursley?s (his aunt and uncle).
I think you should read this book because it?s a very adventurous, full of fun, and surprises. You should read this book because it?s got a great ending, but unfortunately I can?t tell you the ending so if you want to find out what happens read the book. It will be a blast.