Going Home
Written by Eve Bunting
Illustrated by David Diaz
Reviewed by Glorimi V. (age 7)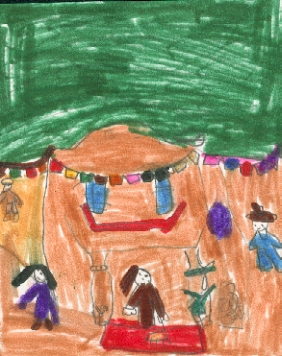 This book is about a family that was going to Mexico on vacation. They were living in Amercica because they were working there. They drove their car all the way to Mexico to Perla which was their home town. They had a big dinner for the whole family when they got there at the grandfather's house. Aunt Ana was there too.
The mom and dad were happy to be home because they missed their home in Mexico. They moved to America to work and to give their children good schooling. They were also saving money. Before the vacation was over the children understood Mexico was where their parents loved to live. They knew that their mother and father loved them because they wanted a better life for their children.
I liked this story because the family loved each other and they drove far to see their grandfather and aunt. The part of the story when the children were sleeping in the car was my favorite. I liked the pictures from the story because they were very pretty and had a lot of colors. I think people should read this story because they can learn to love each other and not fight.