Sabrina Down Under
Written by Ellen Titlebaum
Reviewed by Lela W. (age 10)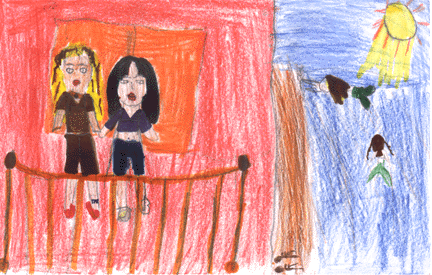 Sabrina and her friend Gwen, from Britain, went to Australia when they were on summer vacation from school. In Australia Sabrina saw a merman on the beach. He had a sea virus on his fin. Sabrina brought him to the hotel and put him in the bathtub (it had salt in it) and then turned Brandy (the merman) into a man for 2 days. Brandy's sister was not so happy about the idea because she hated and would never trust one.
I think that this book is great because one, I really like adventure books and this is one fun adventure book. This book is like the "Sabrina, the Teenager Witch" series. I didn't have a favorite part and I didn't have a favorite character because I liked it all. The book is exciting because Sabrina got to meet merpeople and got to go swimming with a famous marine biologist, Dr. Julian Martin. There were a lot of funny parts. Sabrina is a lot like me because we love vacation and we don't really like homework.
I would recommend this book to people who like adventure books because the book is a big adventure!