One Dark and Scary Night
Written by Bill Cosby
Illustrated by Vrenette
Reviewed by Elizabeth T. (age 7)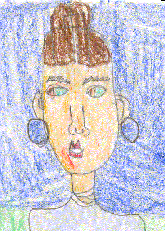 Have you ever been afraid of the dark? The story is about a young boy named Bill. He is in his room and thinks that there is something in his closet .Bill is scared to go to sleep. He thinks the thing is coming to touch him. So he runs to his parents for help but they send him back to his room. Then he goes to his grandmother Alice the grate.? May I sleep here with you?? I asked .a thing with thing is in my closet ?in my room and I cant sleep there and im very, very sleepy.
The lesson that I learned was that you should face your fears then to be scared all the time. Or you wouldn?t get over being scared of everything.
I like the illustration because it looks like little bill. And the pictures identify the story. I also like the colors. They were bright and colorful. The colors in little Bills room remind me of my best best friend's room.
One time I was scared to go in the basement because it was dark. I thought there was a monster down in the basement. Now I won?t go down to the basement without anyone.
I will recommend this book for any one who is scared of something in there closet .Or scared of anything at all.