Harry Potter and the Prisoner of Azkaban
Written by J.K. Rowling
Illustrated by Mary Grandpre
Reviewed by York W. (age 9) & Jahan J. (age 9)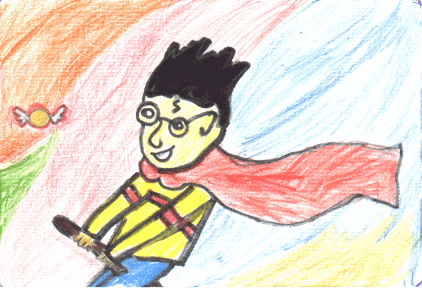 Harry Potter is having the most aggravating summer. One of his troubles is Aunt Marge is coming. Another reason is the Dursleys, Harry?s only relatives, purposely forgot his birthday (they did it before). And another reason is he has to lie and say that he goes to St. Brutus' Secure Center for Incredibly Criminal Boys instead of telling the truth and saying that he goes to Hogwart?s School of Witchcraft and Wizardy. There?s a strong-mnded criminal on the loose named Sirius Black. The only clue he left was he was muttering in his sleep, ?he?s at Hogwarts, he?s at Hogwarts.?
When Harry Potter was on the train to Hogwart?s he saw a Dementor and he fainted. He is scared that the Dementors are going to attack him.
Will he die? Find out in Harry Potter and the Prisoner of Azkaban.
We recommend this book to people that like daring adventures and witchcraft and wizardy.