Tale of The Christmas Mouse
Written by Judith Fringuello
Illustrated by Judith Fringuello
Reviewed by Amir W. (age 12)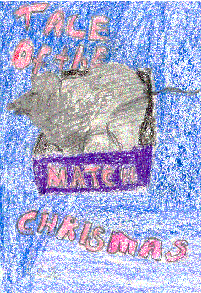 This story is about a mouse who lived under the floor of a house. I can visualize his house because it says it in the book his roof is made of pieces of wood. This little mouse helped Santa bring toys inside, helps him fill the stockings, and put Christmas presents under the tree. Since he had accomplished these things that he wanted to do he threw a party for all of his other mice friends.
The big idea of the story is that the mouse helped Santa do everything so that the people who lived in that house will be happy. I think that the illustrations are okay I say that because they are a little bit blurry but you can still see what the pictures are. The good thing is that the illustrations explain what the Christmas mouse is doing. My favorite part of the book is when they show where the Christmas mouse?s house was located I found it to be pretty funny.
I would tell others to read it because it?s a good book for the little kids and when you are doing book reports for it is a quick book to read. If you are a little kid who likes to read books about Christmas then you should read this book.