Gracie's Girl
Written by Ellen Wittlinger
Reviewed by Shelby N. (age 11)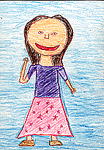 Bess Cunningham is going to middle school and is trying hard to get noticed. She bought some wild looking clothes at her church?s Bag Day Sale. She?s sure that her new look will get her to meet more people but her friends aren?t so sure. Then Bess is forced to volunteer with her parents at the soup kitchen, which she doesn?t think will help her get noticed. Everything changes when she meets Gracie, who?s homeless. As it turns colder Bess is trying to feed and shelter Gracie but she wonders, will her help be enough to save Gracie?
I really love the book! It?s great because Bess is one of those people who care about other people. She isn?t always thinking about herself. I found Gracie interesting because even though she didn?t always tell the truth, she told things the way she wished they were. During the book, I felt sorry for Gracie because she had no home. I wish there were more ways to help homeless people find homes.
I recommend the book because it reminds you that there are other people out there and sometimes it?s good to care about them too. I think someone in the intermediate grades (4-6) would like this book. I think Gracie would interest readers because when she?s first introduced in the book she really catches your attention.