The Hit-Away Kid
Written by Matt Christopher
Illustrated by George Ulrich
Reviewed by Daniel T. (age 11)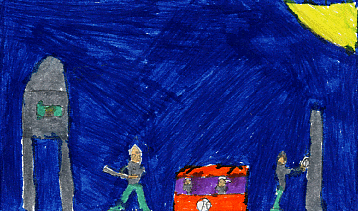 A girl named Barry saw her brother cheat at baseball by scooping the ball off the wall. Because of his cheating, their team won. They went home and Barry's sister said, "You cheated!" He said, "How do you know?" The brother asked Barry not to say anything. She decided not to tell on him, but she told him that his cheating mistake was on his shoulders. He was glad that she was going to stay out of it. Then a couple hours later, his mom asked for him to come downstairs. She wanted to talk to him. Read the book to find out what happens to Barry's brother.
My favorite part of the book was when Mom called Barry's brother downstairs. I knew he was going to be in trouble and it was fun to read about real-acting characters that get in trouble like we all do. This is a cool book to read because I used to play baseball, and I have had friends cheat like Barry's brother did.
You should read this book because it is very interesting. Anybody who plays baseball will enjoy this story. Many readers like to read the Matt Christopher books. They really like this one, too. This book taught me not to cheat in baseball, not to lie about it, and not to feel guilty about it all the time.