Scary Stories 3
Written by Alvin Schwartz
Illustrated by Stephen Gammell
Reviewed by Dominic S. (age 10)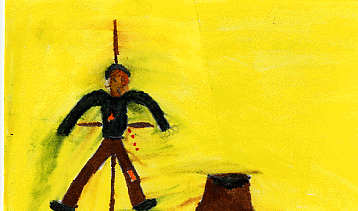 Scary Stories is a book of many very scary tales. One of my favorites is called The Dead Hand. In this story, a man named Tom decides to prove to his friends that there is nothing haunting the swamp near his village. He goes there alone one night and never returns, only to be found later missing his dead hand. Another story called Harold is about an evil scarecrow that comes to life in an eerie way. Harold gets his revenge on the farmer who made him. You'll have to read this book to find out how!
The pictures in this book are really weird and freaky and are great for scary stories. I like the book because I like suspense, and this book made me want to see what would happen next. The book makes you use your imagination. It reminds me of my own life because a lot of weird things happen to me.
I recommend this book to people of any age who like scary and imaginative stories. It is part of a series. The characters act in interesting and unusual ways. Once you start reading this book, you will probably have a hard time putting it down.