Happy Birthday, Samantha
Written by Valerie Tripp
Illustrated by Robert Grace, N. Niles
Reviewed by Shelby D. (age 10)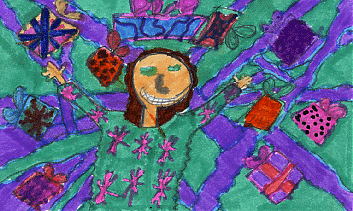 Samantha is an orphan who lives with her wealthy grandmother. She is having a party for her birthday. Her maid says Samantha can help make the cakes and ice cream. A boy named Eddie lives next door and he loves to tease. He ruins the ice cream by putting extra salt in it, and it tasted awful to the girls who came to the party. For her birthday, Samantha got a teddy bear. Later, she goes to New York, and her uncle gives her a baby carriage to hold all her dolls. She has adventures with her new friends, Agnes and Agatha and her aunt's dog, Jip. One message in this story is that when you make a promise, you should keep it.
I think this book was really good. My favorite part was when Jip got loose and the girls had to find her. I liked this part because I really like little dogs. I like Samantha because she tells the truth. She and her friends get into some trouble, but they learn their lesson.
I think you should read this book to find out what else happened. The characters are fun loving and nice. I like the setting because the girls were having a good time at the birthday party and in New York. I think anybody who likes old-fashioned stories would like this book. I like the author's writing style because her books are easy to read. The Samantha series are my favorite!