The Wide Window
Written by Lemony Snicket
Illustrated by Brett Helquist
Reviewed by Nicholas H. (age 10)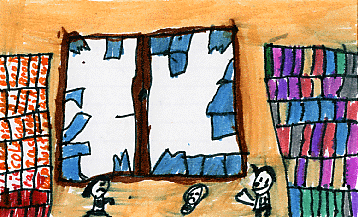 This story is about three orphans that have a huge fortune. An evil man named Count Olaf wants to get the Bauldelaires' fortune. The children are living with their Aunt at the time. Count Olaf dressed up as a man called Captain Sham and sent their aunt to a cave. He tried to kill the aunt to get her fortune. Captain Sham made it look like she had jumped out of the window so Count Olaf could take over as the orphans? guardian. The Bauldelaires go to rescue their aunt. They all got on a boat, but when they were going to shore, leaches came and destroyed the boat. Captain Sham came out of nowhere and picked up the orphans, but not their aunt. When they got to shore, a man named Mr. Poe was there to have him sign as their new guardian. Read this book to find out if the orphans will be left with Count Olaf again. I think the author was trying to show how the kids worked together to get out of bad situations.
I like this book because I like books that have a bad guy in the story. My favorite part is when Count Olaf makes it look like the Bauldelaires' aunt jumps out the window, but she really doesn't. I like Sunny, the baby, because he likes to chew on things and I like to chew on things too.
I recommend this book because it s a book that is fun to read. A person who likes a book about unfortunate kids will like this book. Many people might enjoy reading about Sunny chewing off the leg of Count Olaf.