Harry Potter and the Sorcerer's Stone
Written by J.K. Rowling
Illustrated by Mary Grandpre
Reviewed by Jessica B. (age 9)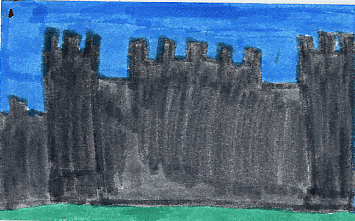 Harry Potter thought he was an average boy who lived with his aunt and uncle. They told him lies about his whole past. On Harry's 11th birthday, a half giant named Hagrid knocked down the door. Hagrid was hand-delivering a birthday cake and a letter to Harry. The letter was from a school called Hogwart's School of Witchcraft and Wizardry. Harry read the letter and could not believe his eyes. He, Harry Potter, was a wizard! It was like a dream come true. He was going to leave the Dursley's for almost a whole year. The next morning Hagrid took Harry to get his new school things. They went to a place called the Leaky Cauldron where everyone came to greet him. Harry was a very famous wizard. When Harry got his school things, he went to the Hogwart's Express where he me a boy named Ron Weasly and a girl named Hermione Granger who became his friends. They had a lot of adventures together. Then one day they found out about a stone called the Sorcerer's Stone. They tried to get to it before the man who killed Harry's parents got it. Everyone addressed him as H-Who-Must-Not-Be-Named. Do they get there in time? Read this book and find out who He-Who-Must-Not-Be-Named is and if they get to the stone in time. This book is about friends who work together to help each other and find adventure along the way.
My favorite part in the story was when Harry reached the sorcerer's stone because the He-Who-Must-Not-Be-Named wasn't who he thought it was. I think the neatest character in this book was Professor Quarrel because he was so goofy and mysterious. This book is a lot like the others in the series because there is always a mystery that Harry, Ron and Hermione have to solve.
I would recommend this book to people who like funny and weird books and stories because this book is funny and weird. This is the kind of book just about anyone would like. I think just about EVERYTHING in this book would interest readers because it has a lot of adventure.