The Class from the Black Lagoon
Written by Mike Thaler
Illustrated by Jared Lee
Reviewed by San Hoi F. (age 8) & Elizabeth S. (age 7)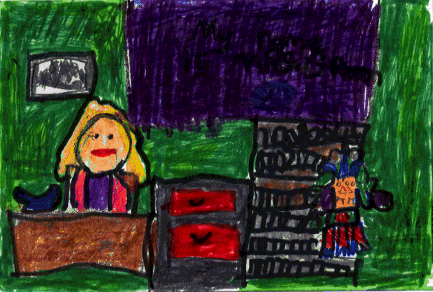 Mrs. Green, the main character, thinks her students are going to turn out as ghouls. She heard that they're great at making horrible faces and they only come when they're sick. Mrs. Green puts hockey equipment on. Is her class going to turn out to be ghouls or not? Read the book and find out.
We thought the pictures in the book were funny because they showed monsters eating chalk, drinking ink, and spitting spitballs the size of cannon balls. We think the book has nice and funny pictures, like when the teacher was afraid about the students being ghouls. Elizabeth's favorite part is when Mrs. Green was scared of her students and put hockey equipment on. San Hoi's favorite part is when they showed the school bus being chased by pirates.
We recommend this book to people who like funny monsters and to teachers who just started teaching. If you believe in monsters and ghouls, you will definitely like this book because it shows monsters and ghouls doing everything funny. The pictures are great and colorful. If you like the other Black Lagoon books, you have to read this book.